(Three-phase inverter duty motor): inverter duty motor using a separate line axial fan forced cooling with high-performance electromagnetic design and insulation system, 5 ~ 50Hz constant torque, 50 ~ 100Hz constant power speed working condition.

Model: YVF 80 ~ 400
Installation: B3, B5, B35, B14, B34
frame Type: totally enclosed fan cooled
Structure: Three-phase asynchronous motor

Product Specifications
YVF series motors, variable speed / frequency.
IEC Standard
Cooling method IC416 (forced cooling), protection class IP55, F class insulation, B grade temperature

Frame size: 80mm to 400mm.

Pole: 4, 6, 8 optional
Rated power: 0.18kw ~ 560kw, frequency control.
Frequency range: 5 ~ 100Hz
5 ~ 50Hz: constant torque output
50 ~ 100Hz: constant power output
Rated voltage: 22 / 380V, 380 / 660V, 230 / 400V, 400 / 690V.
Ambient temperature: -15 ℃ ~ 40 ℃.
Bearing Brand: SKF / C & U
Wiring: 0.18-3kw use star connection, 4-315kw use delta connection

Other Optional Specifications:

1. Heat protection: windings and / or bearings installed PTC, PT100.
2. with tropical moisture.
3. Drive: may need to use roller bearings, angular contact bearings, insulated bearings.
4. Special Paint: provide the corresponding special paint process for the high humidity, high temperature and highly corrosive environments.
5. junction box: from the drive end direction, can be installed on motor top, left and right.
6. cable gland material can be used: plastic, copper, steel, stainless steel. May provide extended the lead.
7. optional protection class: IP65.
8. IC410 (totally enclosed fan-less self-cooling); IC411 (totally enclosed fan cooled).
9. H-class insulation, high-temperature environment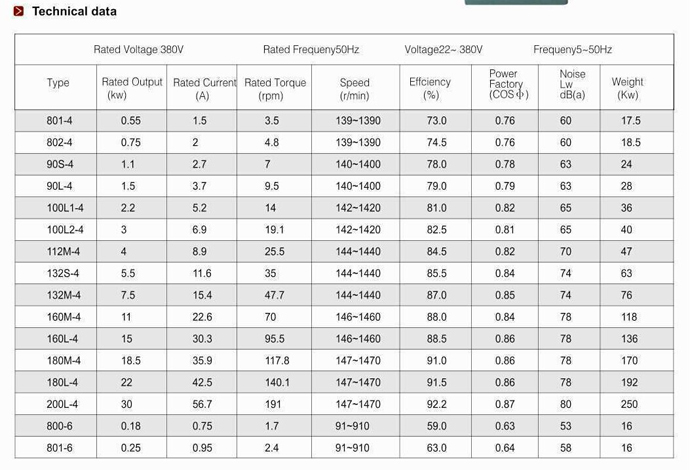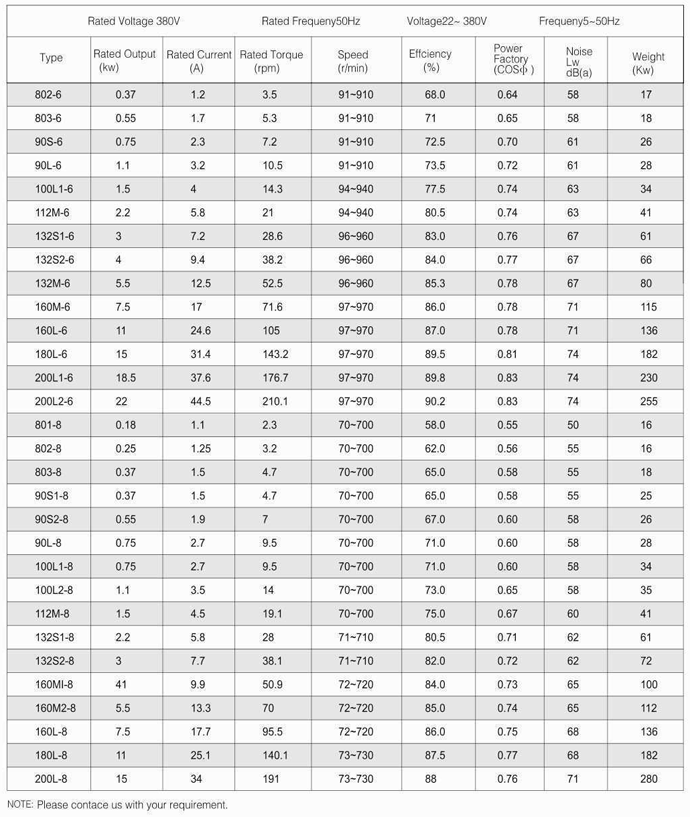 1. Thermal protection: winding and/or bearing installation PTC, PT100
2. It is equipped with moisture-proof heating belt.
3. Drive mode: roller bearing, angular contact bearing and insulated bearing can be selected as required.
4. Special paint: provide corresponding special paint process for high humidity, high temperature and highly corrosive environment.
5. Junction box: from the drive end, it can be installed on the top, left and right of the motor.
6. The material of outlet screw sleeve and/or blind cover can be plastic, copper, steel and stainless steel. Extension leads are available.